Flexible designs
The Best Equestrian Buildings in the Tri-State Area
Whether you're concerned with safety, an efficient workspace, protecting your horses from the elements, or simply protecting your investment, Koskovich and Murphy Developments builds equestrian buildings in the Tri-State area that cover these concerns and more. Our quality puts your mind at ease!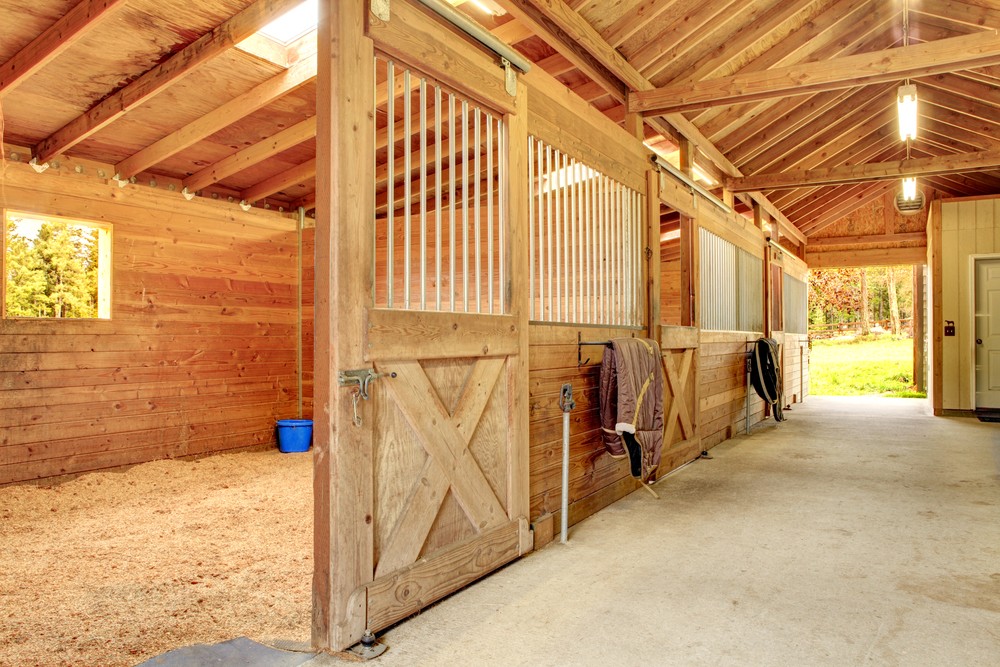 Facilities of all types
Types of Equestrian Buildings
What kind of equestrian building should you choose? There are many types, each with unique advantages. Our flexible designs even allow you to mix and match functions to better suit your needs and site concerns.
Raised Center Aisle
The raised center aisle, or RCA barn, is a great choice for equestrian applications. Thanks to its lighting and better ventilation, it's safer for livestock and workers alike, providing a safe working environment that's sheltered from the elements. Available in a number of configurations, its width, roof pitch, and breezeway design can all be altered to suit.
Riding Arena
When the weather in the Tri-State area cooperates, it's nothing short of gorgeous. But we all know how fickle Mother Nature can be, which is why an indoor riding arena can be such a smart choice. No matter what time of day, and no matter the weather, you can ensure proper ground conditioning and safety; the ability to install seating means you can even allow spectators for competitions and shows.
Sheds and Storage Facilities
Barns and sheds with varying degrees of enclosure (from completely open to walled-in, and all points in between) have advantages of their own, and they make an ideal companion to the other structures we've discussed. The care and feeding of horses requires hay and feed, tack, and much more — all of which takes up space. If you're running agricultural equipment or a fleet of trucks and trailers (especially common with boarding facilities), you need a place to keep those items protected, too. These functions can be incorporated into a single building if space is tight, or we can design and build outbuildings tailored to your needs.
Advantages of Pole Frame Equestrian Buildings
Pole frame equestrian buildings have a number of advantages. While they can be built on a traditional foundation, it's not strictly necessary; that means less site prep and lower material costs, and adaptability across more site types. The pole frame form is more flexible, with fewer limits on shape, size, and window placement. And with fewer thermal breaks, they provide better insulation and energy efficiency.
Equestrian Building Plans and Design
Equestrian buildings have existed in one form or another for centuries. As a result, there are a number of different designs available, some based on classical forms and others incorporating modern construction methods and amenities. If you have a plan that's ready to go, we're ready for you. But if you're like many of our clients, you've evolved a way of working and doing business that's unique to you, so why not design a building around your workflow rather than adjusting your work to someone else's plan? We're here to help with that, too.
Our Building Process
When you're choosing a builder, there are a few key considerations. The first is how the building will be used, which in turn can be influenced by site considerations (the lay of the land, and other structures that already exist on the property). Your budget and expected timeframe for completion matter, too, since they'll dictate some of the other choices made.
Why Choose Koskovich and Murphy Developments?
But perhaps the most important thing to consider is your choice of post-frame contractor. Leveraging our expertise to tie all these strands together, Koskovich and Murphy Developments delivers a building that's designed and built precisely to your needs and fully finished with electrical, flooring, fittings, and anything else you may need. We deliver on time and on budget, with an end product you can trust — and enjoy — for many years to come. Reach out for a free consultation today!